Garden Twines -
We manufacture and supply various garden twines, including natural organic green jute and brown jute twines, poly twines and garden raffia. Our garden twines are available in small, medium and large spools, labelled Everlasto brand and shrink wrapped.

Garden Twines available -
Green Jute - Brown Jute - Poly Twine - Garden Raffia Garden Twines

James Lever manufacturers & Suppliers of Twines & String

James Lever are UK manufacturers and suppliers of a large range of quality twines under their brand Everlasto. These include garden twines, butchers twines, household twines, packaging twines and decorative twines. James Lever use both natural and synthetic yarns to produce natural cotton string, coloured string, brown jute string, sisal twine, viscose twine, rayon twine, polypropylene twine and polyester twine. The twines come as either a ball or on a spool, labelled Everlasto brand and shrink wrapped. James Lever can also manufacture/package twines to the specific requirements of customers including own brand labelling.
Everlasto - Twines
Everlasto Twines - Britains's No1 seller.
James Lever first produced twines in 1856



Types of garden Twines &
garden string
manufactured
Natural twines - synthetic - natural - coloured - twines
Up to 1Kg spools as standard - other sizes available
Manufactured to CUSTOMERS specific requirements & BRANDING
Product Enquiry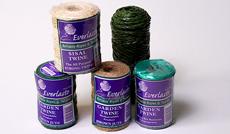 For further information on these products please contact James Lever Ropes and Twines manufacturers.