Butchers String - Kitchen String
We are manufacturers and suppliers of catering strings - viscose/rayon string, which is a thin multi-purpose kitchen string ideal for meat preparation. Our rayon kitchen strings are available in red, blue, green and white on 500g spools, labelled Everlasto brand and shrink wrapped.
Butchers string available -
Viscose (Red/Blue/Green/White) Rayon, Butchers Twines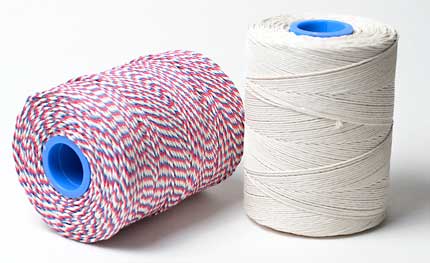 Approximate Rayon Figures
SIZE
RUNNAGE (per kg)
BREAK STRAIN
3's
300 metres
100 kgs
4's
400 metres
75 kgs
5's
575 metres
50 kgs
6's
850 metres
30 kgs
104's
1200 metres
25 kgs
James Lever Manufacturers & Suppliers of Butchers kitchen string

James Lever are UK manufacturers and suppliers of a large range of quality strings under their brand Everlasto. These include garden string, butchers string, household string , parcel packaging string and decorative strings. The twines come as either a ball or on a spool, labelled Everlasto brand and shrink wrapped. James Lever can also manufacture/package strings to the specific requirements of customers including own brand labelling.
Everlasto - Twines
Everlasto Catering Twines - Britains's No1 seller.
James Lever first produced twines in 1856



Types of Butcher string and Kitchen strings manufactured
Natural & Synthetic butcher / kitchen catering strings
Upto 1kg spools as standard - other sizes available
Everlasto Brand shrink wrapped
Manufactured to CUSTOMERS specific requirements & BRANDING
Product Enquiry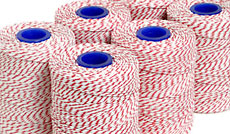 For further information on these products please contact James Lever Ropes and Twines manufacturers.